Issue #1

:
When signing up for a Grammarly account, it is asking me to pay, or asking for an access code.
Answer:
You don't need to pay for an account or use an access code if you are a University of Arizona Global Campus student. You must use the correct link to our university Grammarly site and must use your university email address.
Enter your name, UAGC student email, and preferred password.

Click on "Sign Up." A verification email should be sent to your university email account in

Office 365

.

Open your university email account, find the Grammarly verification email, and click on "Verify email." Once this is done, you should have free premium access to Grammarly.

Can't find the verification email? Check your Junk/Spam folder within the "More" section of your student email account.
---
Issue #2:
I've signed up for a free Grammarly account, but have not received my verification email.
Answer

:
Be sure you are checking your university student email account (the one you provided when signing up for an account).

Be sure to check your Junk/Spam folder within the "More" section of your student email account.

Not there? Ensure you typed in your university email address correctly.
---
Issue #3:
I signed up for a free Grammarly account, but it is not a premium account.
Answer
:
You will need to sign up for a new account, making sure to use our university Grammarly link and your student/university email address.
---
Issue #4

:
I seem to be locked out of my Grammarly account.
Answer

:
If you signed up for a Grammarly account using your old Ashford.edu email address, you'll need to log in now using your UAGC.edu email address. Your password will remain the same.

There could be a technical issue that Grammarly's Tech Support will have to handle. If you already have an account, but it is not functioning properly or you are locked out of it, contact

Grammarly Tech Support.
Issue #1

:
It has been over 12 hours, but I have not received my reviewed paper back yet.
Answer

:
You should have received an email from TutorMe including a link to your reviewed paper. Be sure to check your Spam or Junk folder in your email account. You can also find all of your previously reviewed papers back in the same place where you submitted it. Review our Paper Review page for specific instructions.
---
Issue #2:
When I click on "Submit a Paper," it takes me to a "Live Tutoring Free" button.
Answer:
Don't worry--you are in the right place! Go ahead and click on that button and you will be directed to the Paper Review service.
---
Issue #3:
I cannot submit my paper for a review or I'm getting an error message.
Answer:
There are several things to try:
Be sure you are uploading a .docx or .doc file (Microsoft Word files).  You can convert a PowerPoint presentation or any other file type to a .docx file by using a free online document converter site.  
Use an updated version of Microsoft Word. You have free access to Office 365, which provides the most updated version of Word. Log in at https://portal.office.com/Home using your university credentials, and move your work into Word 365.
Use Google Chrome, which works best for the TutorMe platform.
Use a laptop or desktop. The platform is not cell phone compatible.
Follow the submission steps on our Paper Review page.
---
Issue #4:
I cannot see any comments on my reviewed paper.
Answer:
Open the document on a computer and not your phone. The margin comments will not show up on a phone.
Also, be sure to download the reviewed paper to open to Word. Do not open it within your email's browser.
---
Issue #5:
I'm getting a message that I need to pay for TutorMe services. 
Answer:
First, ensure you are entering tutoring or paper review from your Canvas classroom. 
Also, ensure you are using your personal computer. Company/Government/Organization-issued computers often have protections that will not allow you to enter the TutorMe platform. 
Issue #1

:
Need help understanding why my Turnitin score is high, since I did not plagiarize.
Answer

:
Turnitin shows instances of similarity to sentences or phrases that have already been published. Similarity is not the same as plagiarism. If you have an item that is similar, but you have quoted and/or cited it, this is not plagiarism. Titles of works or items on your references list may also be highlighted as similar—this is okay.
If your Turnitin score is high and you have quoted and/or cited all of your information from sources, this means that you do not have enough of your own ideas or analysis. To correct this, follow the steps in this guide on Integrating Your Research & Adding Your Own Academic Voice.
---
Issue

#2:
Any issues with accessing Turnitin or getting your Turnitin report.
Answer

:
The Writing Center does not oversee Turnitin. Please reach out to Academic Integrity at [email protected] for any questions or issues with Turnitin.
If you are just looking to have your grammar and punctuation looked over, use Grammarly instead of the Paper Review service. The Paper Review service will focus on areas for revision such as organization and topic development instead of sentence errors. Grammarly is the service to use to get your paper proofread for sentence errors.
For more information on Grammarly, check out our Grammarly page.
If you need a confirmation or tracking number as proof that you used the paper review service, you will receive this once your paper has been reviewed and returned to you.
The tracking or confirmation number will be found at the top of your reviewed paper and begin with "result…."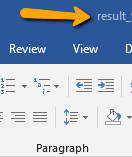 Use the 24/7 Live Writing Tutoring when you:
Have a specific writing or formatting question

Need help understanding your Turnitin report and how to avoid plagiarism or lower your score

Have a short piece of writing to get feedback on—for example: thesis statement, paragraph, discussion post, references list

Have a question about a revision suggestion you received on a paper review
Use the Paper Review service once you have a partial or complete first draft of your assignment or discussion post that you'd like to have reviewed for suggestions for revision. The writing tutor will return your paper within 12 hours.
After revising your writing based on these suggestions, use Grammarly to then check your work for grammar and punctuation errors.
Use the search bar on the Writing Center website to quickly find one of our many website resources to:
Review writing guidelines

See writing samples for various types of writing or assignments

See APA formatting and citing examples

Better understand how to avoid plagiarism